THE ROCKING FUTURE ROADSHOW
Finally, you can take your schooling future into your own hands! Are you ready to decide your destiny?
No? That's okay! We're here to guide you. With the Rocking Future Roadshow you'll discover all the exciting opportunities ahead of you. We'll help you understand the options you have and what careers would suit your personality, skills and ambitions.
Do you enjoy solving technical problems in the physical world? Do you enjoy helping others and creating a better life for the people in it? Or would you like to start a business and be your own boss?
From the sciences, mathematics and engineering to the humanities, business studies and social sciences. We'll make sure you have all the information you need to make a decision you're confident in.
EXPLORE OUR NEW ONLINE CAREER EXPO
2020 forced everyone to adapt to challenging circumstances. Naturally, we could not host our career expos as we normally would. But we didn't want to cancel our events completely and leave the youth hanging.
So we adapted, we improvised, and we overcame. The RockingFuture Roadshow is now available in our new online expo. Head over to the Swiwel.com by clicking on the link below.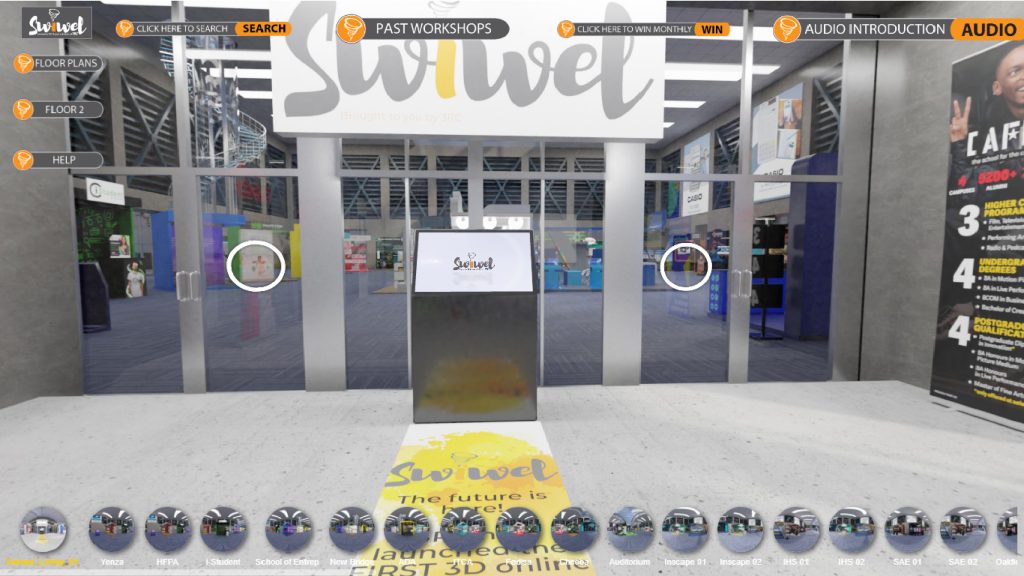 FOR LEARNERS AND PARENTS
Our activations are designed to drive engagement between our clients and the youth. Read our brochure for more information about our exciting career expos.
FOR TEACHERS
Complete the booking form to bring our exciting activation to your school!
FOR THE CLIENTS
Our activations are designed to drive engagement with between our clients and the youth.
Motivating the youth to become the future leaders of South Africa is our mission and our passion at 3RC.
Combining entertainment and career guidance, the Rocking Future Roadshow is the gateway to private tertiary institutions in South Africa.
From live shows to 1-on-1 coaching, presentations and exhibitions, the Rocking Future Roadshow is a fun, interactive and informative career expo for matriculants wanting to explore options outside public universities.
With 21 years of experience, producing over 5 000 live shows and reaching more than 1 million learners, the Rocking Future Roadshow truly has something for everyone.
Frequently Asked Questions
The Rocking Future Roadshow is for all schools with an average pass rate above 90% and annual school fees higher than R15 000. We cover schools across the country in all provinces.
We arrive at your school during your normal school hours and usually stay for 2 hours. During this time we introduce you to the private institutions in our Roadshow and provide information about the courses and degrees they offer. We also give you plenty of time to ask questions and chat with each of the exhibitors.
The Rocking Future Roadshows are interactive, motivating and FUN! Our MC's are there to facilitate an engaging and informative session with the tertiary institutions to help you prepare for the important career decisions ahead of you. Many of the institutions on our Roadshow provide free magazines, brochures and prizes.
Due to the coronavirus pandemic, we have created an online portal for our Rocking Future Roadshow. As the current times are highly unpredictable, we can't say for sure when the next Roadshow will happen. In the meantime, we are hosting our Rocking Future career expos virtually. Find out more information on our Virtual Portal here.
Johannesburg
19 Jan – 10 Feb | 22-24 Mar  |  27-31 Mar | 13-26 Apr | 19-26 May
Pretoria
13 Feb – 3 Mar | 8-18 May
East Rand
6-17 Mar | 8-18 May
Cape Town
30 Jan – 3 Mar
Port Elizabeth
6-14 Mar
KZN (Pietermaritzburg & Durban)
13 Apr – 12 May | 15-23 May